I started this post as a big list of everything I'd still like to do in the house, but writing a list isn't fun and I'm guessing it's not all too great to read either. Instead, I will tell you one of my priority areas in the house (minus the laundry room of course).
It's finding SOMETHING to put on this big blank wall space. It looks tiny here, but it's 5′ wide and 10′ tall.
I'm guessing my creativity block is karma for painting over the chalkboard wall.
There's a few obvious things I have already decided against:
It can't be a gallery wall (too busy for this small, already busy space)
It can't be a huge honkin' piece of art (I spent my art fund on gutters)
It can't be one of those $5 black and white architect prints (I don't have the best luck with those… so many bubbles from the mounting adhesive)
So then what?
The only image that gives me hope is this one. Adam was a fellow participant in 2012′s Small Cool Contest and I LOVED his apartment. But even more, that textile wall hanging has stayed on my mind for two years.
Let's take a closer look at that beauty.
I have no idea what you even call that thing. I have been searching high and low on eBay and I haven't found one in that pattern or that size. Aaron laughed at me because he saw my eBay search history the other day.
"Shag carpet hanging"
"Textile carpet wall"
"Colorful wall carpet"
"Yarn Wall Hanging"
"Yarn Shag Wall"
"Textile art"
And most of those searches serve up a lot of this…
It's magical but it doesn't quite go with the decor.
I could go the retail route but they're all small and expensive and I need it to be huge and cheap. I do like the pattern of this Urban Outfitters one. It's close to the inspiration photos. Now if only I could triple size it.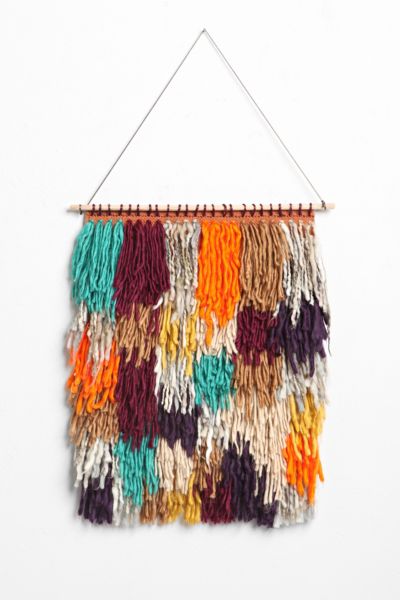 It sounds like I have a DIY in my future. Brynne over at Gathered Home has the best tutorial in blogland for making hangings like these. I can use that general method, but I want mine to be uniform in length all over.
So that's my current home decor predicament. I would love to know 1.) how would you handle a space like this? and 2.) where would I find a wall hanging like that?
The search continues…
xo,
emily