I shared my newly striped front porch on the Angie's List blog last week (did you see it?).
I wish I could claim credit to the idea, but the reality is, the painted (and patterned) porch floor has been an 'ole parlor trick in the DIY blogosphere for a long time. Sometimes I forget that not everyone has a RSS feed that's 100+ DIY blogs-deep, so yea, I guess I see a lot. And then copy it for myself.
There are some porch floor classics in here that I've loved for a long time, so let's take a little walk down memory lane. The first striped painted porch I ever saw was in Spring 2009 a la Young House Love. Seven years later and the desire to recreate this striped dream is still alive and well, so that's saying something!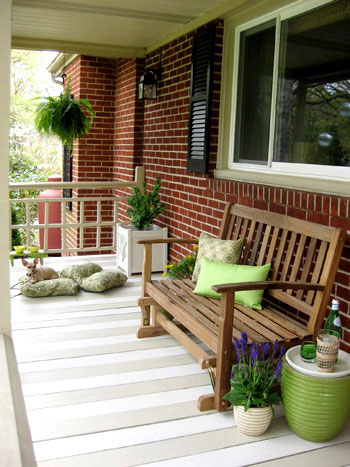 My next favorite painted porch is another oldie, but goodie. While not stripes, I loved this green "rug" Nicole at Making it Lovely created on her front porch. Both projects were the same year… I think maybe they were even in the same challenge together? What's funny is all the lime green. Was 2009 the year of lime green? I don't know, but I like it. Lime green is such a good outdoor color.
OK, next on the list is this saucy little number from Julia at Cuckoo 4 Design. She did these black and white stripes very recently and OMG… the impact! Also, painting stripes on a textured concrete porch is not easy (hello, bleed!), but she used an awesome trick to ensure her lines stayed crisp.
Another favorite is this geometric painted porch floor by Jenny of Little Green Notebook. I imagine walking over the optical illusion after a few frozen margs is comical and also slightly terrifying. Ha!
And last, but certainly not least, is another painted rug, this time done by Laura for A Beautiful Mess. Ok, so technically not a porch, but so good, and look at those colors! If Lisa Frank had a patio floor, this would be it. And that is a good thing!
So there you have it. I've essentially downloaded my brain's file on "painted floors." Now I have a little more freed up brain space to file away other important things, like wallpaper and paint colors and lighting tutorials.
What's your favorite painted floor? Show me what you go!
xo,
emily