My bedroom has been feeling a little on the blah side to me lately. Maybe it's because the last time I changed it up was in winter? Here's where it's been:
Focus special attention on the cabinet in the back corner. Lots of the spring styling happened right there. It now looks like this…
How about we scootch back just a tad…
Ok… a little more….
Basically, just a lot more color. I seem to be obsessed with yellow, orange and pink lately (it's all over the wedding, too) so of course I had to bring some of the same into the bedroom. Much more springy!
And did you notice my lovely brass light clip attached to my bed?
It's the Land of Nod clip light. Quite possibly the cutest clip light/lamp in all the land. This one….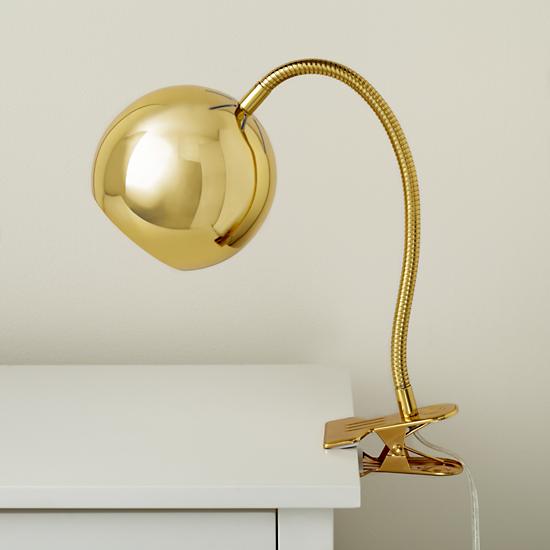 That clip light will run you $60 in stores and online. I found it at their outlet for $15. YES. Wait until you see the office makeover (workin' on it)… it's like the Land of Nod lighting section blew up in there.
Anyways, the other side of the room has looked like this ever since I upgraded the front of my MALM with PANYL.
The record player drives me crazy because there's just no good way to set up without taking up the entire top, but I did do some major simplification. It now looks like this…
Better, right? Same amount of junk, just doesn't look as junky. The key was resting the speakers on the window ledge behind the dresser. It keeps them out of sight, which I love.
And yes, that is a fiddle leaf fig mini tree. IKEA has them for 12 bucks. I now feel like a real shelter blogger. I hope I don't kill it. I don't want to lose my blogger street cred.
I also rolled the DIY pom pom shade way up. It's a huge window and I never realized how much of it I was covering up (thus keeping the room dark nearly all of the time) with the shade pulled all the way down. It's much better now, although now I need to watch for neighbors when I'm getting dressed in the morning.
That's it for now. Are you guys springifying your homes too? Are you like me and just slap a plant and some colorful accessories somewhere??
xo,
emily